Warning
You are reading the documentation for an older Pickit release. Documentation for the latest release (2.4) can be found here.
Pickit M-HD camera¶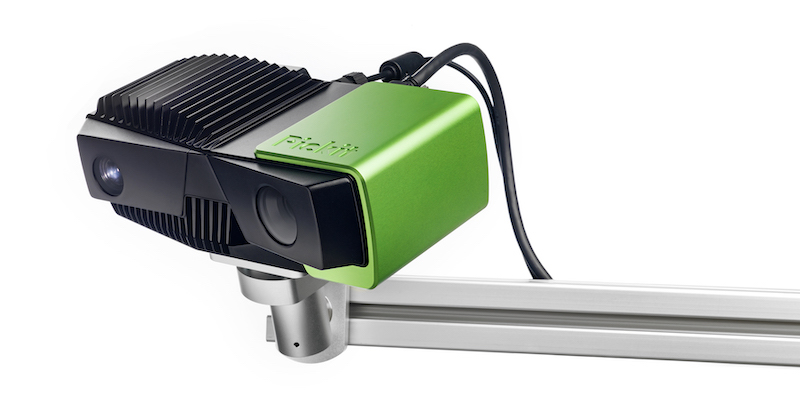 Pickit M-HD is a highly accurate 3D camera for picking small and medium-sized parts and surfaces. Its field of view allows operation in bin picking and similar applications.
The camera is manufactured by Zivid AS in Norway. It is compatible with the Pickit processor 2.0 and higher.
Field of View¶
433 x 271 mm @ 0.62 m

691 x 432 mm @ 1 m

1330 x 871 mm @ 2 m
Technical specifications¶
3D measurement method Structured light

Image processing speed 10 Hz (100 ms snapshots)

3D Camera accuracy 0.1 mm

3D Camera repeatability < 1 mm

3D camera weight 2 kg

3D camera connection to PC M12-8 (USB) - USB3

PC connection to robot TCP/IP over Ethernet

Power supply M12-5 24VDC

Temperature 10°C to 40°C

IP rating IP65

Vibrations 5G Sinus, 25G Shock

Conforms to CE, CB, EN6950, FCC class A
Power consumption¶
Booting: 35W

Idle: 16W

Detecting: 35W