Warning
You are reading the documentation for an older Pickit release (1.10). Documentation for the latest release (3.3) can be found here.
Exercise detection of an empty bin
This exercise involves creating a detection strategy to detect an empty bin.
| | |
| --- | --- |
| Level | Advanced |
| Duration | < 15 min |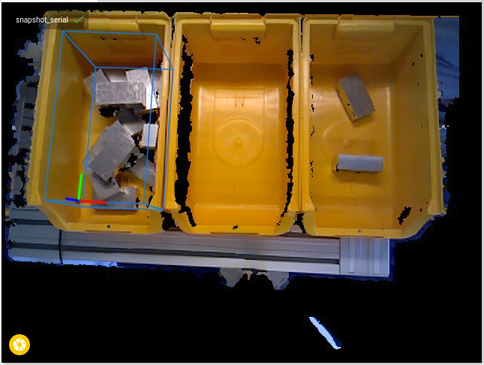 Requirements
Before starting on the exercise we advice you to read following articles:
Task
Three bins are shown beneath the camera: one that is still rather full, one completely empty and the last one is almost empty. Your task is to create a detection strategy that detects if a bin is (almost) empty.
Given: Region of Interest settings for each box.
Bin 1: X 10 - 160mm, Y -10 - 260 mm, Z 5 - 140 mm.

Bin 2: X 220 - 370mm, Y -10 - 260mm, Z 5 - 140mm.

Bin 3: X 420 - 570mm, Y -10 - 260mm, Z 5 - 140mm.
Hint: No object detection could indicate an empty bin.
How to get started
Follow the next steps to complete the exercise.
Download the snapshot file here on your device.

Connect your device to your Pickit processor.

In the user interface of Pickit, go to the Files tab.

Press Upload and select the file.

The file can now be found in snapshots/uploads.

Finish the exercise.

Press the snapshot button on the lower left corner of the view.

Name your snapshot 'Solution_Pattern_boxes/coilsinner/coilsouter_1_CompanyName'.

Download the file from the snapshots folder.

Send your solution to support@pickit3d.com to receive feedback.