Warning
You are reading the documentation for an older Pickit release (2.0). Documentation for the latest release (3.3) can be found here.
Setting up Pickit with a KUKA robot
The setup of Pickit with an KUKA robot consists of 4 steps:
Pickit is compatible with controllers as of version KR-C4 and the software module KUKA Connect KRC for socket communication is required. The product number for this module is 91B300-020 version 2.0.14 or later.
Tip
This module can only be purchased through Pickit. Please contact your account manager or sales@pickit3d.com for more information.
The Pickit processor has to be connected to the KUKA KR-C4 controller using an Ethernet cable. This Ethernet cable should connect:
The network port labeled ROBOT of the Pickit processor

The KLI Ethernet port of the KR-C4 controller (also referred to as X66). The location of this port may vary depending on the controller model. The below images show example locations: Cabinet door (left), built-in switch (right).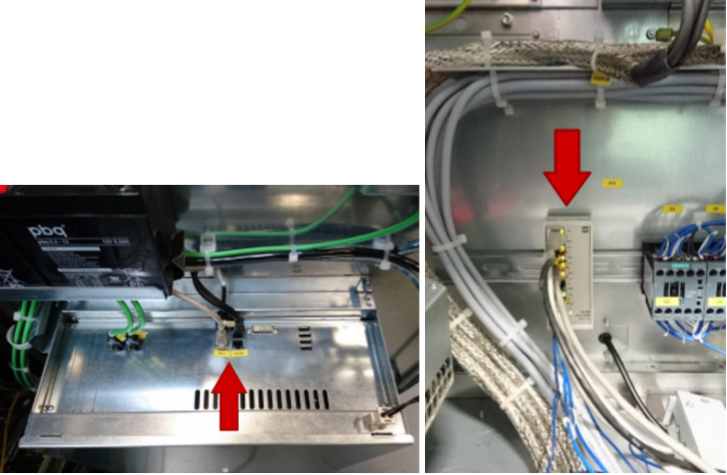 There are two sets of files installed in the robot controller that relate to Pickit communication:
Pickit application files. These are example programs that illustrate how to perform typical Pickit operations, like robot-camera calibration or object detection for pick and place.These are located in R1 > Progran > Pickit.

Pickit interface files. These are internal files that expose the high-level functions used by the application files, and manage low-level communication with the Pickit system. These files are not meant for editing and are located in R1 > TP > Connect > Pickit.
The Pickit application files can be loaded and executed as any other KUKA.KRL program. Please refer to the KUKA KR-C4 user manual for further details.
The examples contained in the Pickit application files contain hard-coded robot poses that should be adapted to every new robot. When executing such programs for the first time, please do so in manual mode and at low speed to check for potential collisions.
Before starting the communication, on the Pickit interface select KUKA as the robot to communicate with. Next, on the robot side, go to Main Menu, then Configuration > Connect settings. In the Connect settings screen, data being exchanged between the robot and Pickit is displayed in the text boxes labeled PC -> Robot and Robot -> PC. You should see data and timestamps be updated multiple times per second.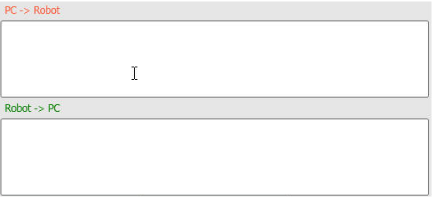 Details on testing this connection on the Pickit side can be found on: Testing the Robot to Pickit connection.