Exercise detection with Pickit Teach
This exercise involves using Pickit Teach. Different models of the part will be taught to the system to find similar parts in the bin.
| | |
| --- | --- |
| Level | Basic |
| Duration | < 15 min |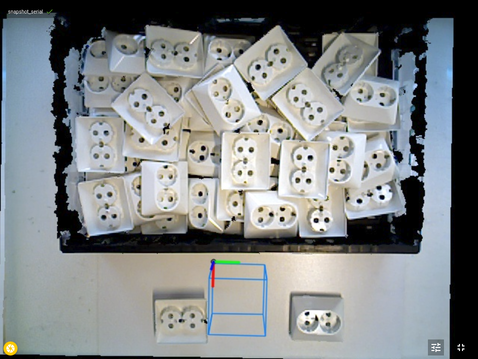 Requirement
Before starting on this exercise we advise you to read the following articles:
Task
Here a bin full of electrical plug shieldings is shown. Create two models to find many good fits in the bin.
Hint
First, keep your Region of Interest clean when teaching the models and when the detecting part. Second, optimize your detection and model matching parameters.
How to get started
Follow the next steps to complete the exercise.
Download the snapshot file here to your computer.

Connect your computer to the Pickit Web interface.

In the user interface of Pickit, go to the Snapshots page.

Press Upload snapshot and select the file.

The file can now be found under snapshots/uploads.

Finish the exercise.

Save a snapshot with your current detection results.

Name your snapshot Solution_Teach_1_CompanyName.

Download the file from the snapshots folder.

Send your solution to support@pickit3d.com to receive feedback.