Warning
You are reading the documentation for an older Pickit release (3.0). Documentation for the latest release (3.3) can be found here.
The Pickit Omron TM interface
Pickit integrates seamlessly with Omron TM cobots by means of a set of TMflow components, which add to the set of existing TM nodes. Each component is a building block for creating vision-guided applications with Pickit. This article documents the interface of the Pickit TM Components. For installation instructions please refer to the Omron TM Component installation and setup article.
The following sections describe the purpose of each component, the meaning of the input parameters (if any), as well as that of the output gateway states.
To insert a component instance into your robot program, click on one of the Pickit components listed on the left panel and drag it into your program. This is how Pickit components look like: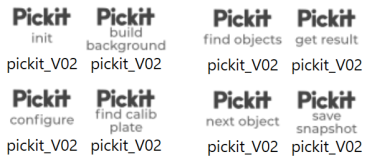 Note
The naming convention for TMflow components is Application_Provider_Vendor_Version_Function, which for Pickit corresponds to perception_pickit_pickit_Vxx_Function. Pickit components only differ on the Function name, so throughout this article the common prefix is omitted for brevity.
A general note on introspecting component behavior is that the g_perception_pickit_user_msg global variable holds human-readable status updates from all components. For instance, when a component exists with an error state, the value of this variable can be shown in a Display node to get an insight on the failure reason. Refer to the pick and place example for the recommended usage.